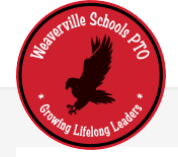 Weaverville Primary and Weaverville Elementary are fortunate to share a PTO. Your support and involvement are both encouraged and greatly appreciated. The Weaverville Schools PTO works hard to support the students, staff and school community. There are many ways you can be involved. Regardless of being able to give a lot of time or a little time, you are appreciated!
2022.2023 PTO Officers
President - Bob Lennell
Vice President - Anna Broom
Secretary - Kaela Hartsell
Treasurer - Reagan Miller
Meeting Dates and Locations
2nd Thursday of each month at 8:15 AM (1st semester is at Weaverville Primary School, 2nd semester is at Weaverville Elementary School.